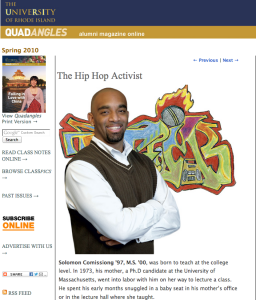 Words, beats, and life! Words, beats, and life! Those three things are what R.A.P. (Rhythm And Poetry) became to mean to me. It is what defines how I felt about the music that I fell in love with almost instantaneously. I became consumed with this music that made my body move but at the same time stimulated my curiosity for learning. I mean, it was obvious that I was being entertained by this music…that much I knew. What was not obvious was the fact that I was learning things from this new style of music at an incredible rate. It was so regaling to me and I was so young that I had no idea what was being feed to my brain. I just simply could not get enough of it. Rap music was life. The words and the beats became my life.
When I came to the US from Trinidad around the age of 10, I was devoid of the music that I grew up on. There was an absence of the rich steel pan and soca music that Trinidad had provided me. Suddenly I was in a place where those forms of music failed to exist. I mean, no one outside of my apartment was listening to anything that resembled soca or steel pan. I quickly had to adapt to a new way of life as do many children who come to the states from other countries. I had always taken to things that I found interesting. I took to basketball immediately and I took to rap music in the same way. I became entranced the first time I heard that sound accompanied by spoken words flowing out of my friend's boom box. It sounded like nothing I had ever heard before. I could feel the passion that emanated from the rapper's voice and the beats that clung to it. That day I was formerly introduced to rap music. Rap music became my solace, my teacher, my buddy, and one of the sources of my black identity.
I grew to know artists like: KRS-ONE, Public Enemy, Poor Righteous Teachers, Brand Nubian, Intelligent Hoodlum, Queen Latifah, Main Source, the Native Tongues Crew, Too Short, and LL Cool, to name a few. I didn't know them personally, but I sure felt as though I did, based on all the time I spent listening to their words. The words these artists rapped was nothing short in ingenious. I was so entertained by the rhythm, the beats, the lyrical content, and the style that these musicians encompassed. I later found out that some of these artists became among the best teachers of history that I had ever had. I was not formerly taught by them in a conventional classroom with a dilapidated blackboard, out dated text books, and squeaky wooden desks. That was not my classroom for instruction. When I was being taught by the likes of BDP and Public Enemy my classroom occurred wherever I happened to be listening to their music. Sometimes it was on the bus while my walkman's headphones rested gently on my ears. Sometimes it was outside near the basketball courts where they (rap artists) lectured from my friend's boom box, or "ghetto blaster" as we used to call it. These lectures could take place at any time or anywhere. All I had to do was listen to the music. The best part was that it was fun to learn from them. I didn't even realize until I was older, as to how much I actually was learning about history, politics, and vocabulary.
Growing up as a young black male in the 1980s I was not privy to an educational system which placed a strong emphasis on the history and legacy of black people in America. While in middle school and in high school I never learned about black people who made significant contributions to the American community. The formal classrooms that I attended were never havens for this type of education. I learned about black history from my Mother and from rap music. I found out from these two entities that black history is American History and it is world history. Chuck D taught me about Huey P. Newton and the Black Panther Party. KRS-ONE taught me about Charles Drew and Lewis Lattimer. The Intelligent Hoodlum taught me about Marcus Garvey. Tribe Called Quest introduced me to Stevie Biko and the sacrifices he made to fight apartheid in South Africa. I was never taught about these people or many other blacks while I sat in my formal middle school or high school classrooms.
The things I learned from listening to rap music in the mid 1980s to the early 1990s played a vital role in my development intellectually. It played a tremendous role in my self esteem. Rap music planted many seeds of knowledge within me that have since blossomed into bountiful trees that have shaped who I have become as a man. I am knowledgeable of my legacy, those who paved the way for me, and the rich history of black people in this world. All of these things have contributed to my identity in terms of who I am and the responsibility I have to teach others what I have learned. I am now an educator and frequently I try to find creative ways in which I can introduce the rap music of the "Golden Era" to my students. It is replete with information that is educational, motivational, and inspiring. I honed my critical thinking skills through the myriad of rap artists who paraded themselves throughout the 1980s. I became inspired to become active in my community because of rap music. I became so proud to be black, in large part, because of rap. The music just had that ability to reach out and call to its listeners and teach them in the most entertaining way.
The African Medallions, the high top fades and the overalls all symbolized aspects of that era of rap music. It was the best time of my life. I found out how ladies were first, how to stop self destruction, how to H.E.A.L myself, and how knowledge is king. These lessons were given to me courtesy of my lyrical professors. They are lessons I carry today. They are lessons that have helped shape my identity. I will forever be indebted to rap music. It is the music that shaped my generation while I was growing up in the 1980's. I just want to say thank you to Chuck D, KRS-ONE, Queen Latifah, Main Source, Big Daddy Kane, De La Soul, Tribe Called Quest, Intelligent Hoodlum, Kool Moe Dee and so many others. Your lyrics live on through me, as well as so many others!
By:
Solomon W.F. Comissiong
President, SCMB Educational Consulting
www.scmbconsulting.com